Dean's Coupons
Start Saving Today
Save big on a New Heat Pump when you combine Dean's Tax Credit Match with a qualifying Tax Credit
Up to $4,000 in Savings
Expires 12/31/23
*Contact Dean's for offer details. Not valid with any other promotions.
Tankless Water Heater and Water Softener
$600 Off
Expires 12/31/23
*Must purchase both tankless water heater and water softener to qualify. Not valid with any other offer.
SEWER MAIN LINE EVALUATION W/ CAMERA & INSPECTION
$49 Open Main Line
Expires 12/31/23
*Valid for one-time use. Not valid with any other offer. Up to one hour attempt. Mention offer when booking.
MAIN LINE JETTING
$200 OFF
Expires 12/31/23
*Not valid with any other offer.
Top-Quality Home Services
IN MINNEAPOLIS & ST. PAUL
From HVAC units to electrical wiring and plumbing pipes, your home relies on several systems to keep your family comfortable. To ensure these systems always work well, Dean's Home Services is dedicated to providing top-quality plumbing, heating, air conditioning, electrical, and drain cleaning services in the Twin Cities area.
HVAC Services
Reliable air conditioning and heating are a must to get through the highs and lows of Minnesota's weather. If your air conditioner is blowing warm air or your furnace won't turn on at all, you can count on the Dean's team. Our HVAC professionals provide premier heating and cooling services in the Twin Cities, including installation, replacement, and maintenance for:
Electrical Services
Your electrical systems and devices need to work reliably to power your daily routines. When you need electrical work in Minneapolis, St. Paul, or the surrounding areas, you can trust the professionals at Dean's to ensure everything is completed safely and efficiently. Our licensed electricians can handle it all, from small repairs to complex installations. We offer a range of services, including panel upgrades, lighting installations, and electrical safety inspections.
Plumbing Services
From clogged drains and leaking pipes to water heater repairs and installations, the team of plumbing professionals at Dean's has you covered. We provide a full range of plumbing services in the Twin Cities area, so the water will always flow correctly in your home. We also offer emergency plumbing services, so you can count on us to be there when you need us most.
Drain Cleaning & Repairs
Drains are crucial to the overall functioning of your home's plumbing, but they so often get clogged and backed up. That's why our team of experienced professionals provides thorough drain cleaning services in the Twin Cities area. We can clear any clogged drain, from kitchen sinks and bathroom showers to main sewer lines.
For top-quality HVAC, plumbing, and electrical work in Minneapolis, St. Paul, and the surrounding areas, turn to Dean's Home Services! Call 763-515-4852 or contact us online to get started.
RECENT BLOG POSTS
At Dean's Home Services, we have over 100 years of combined experience in each of our service lines, so we know what we're talking about. Let us share our knowledge with you through the helpful tips, tricks, and advice found in our blog!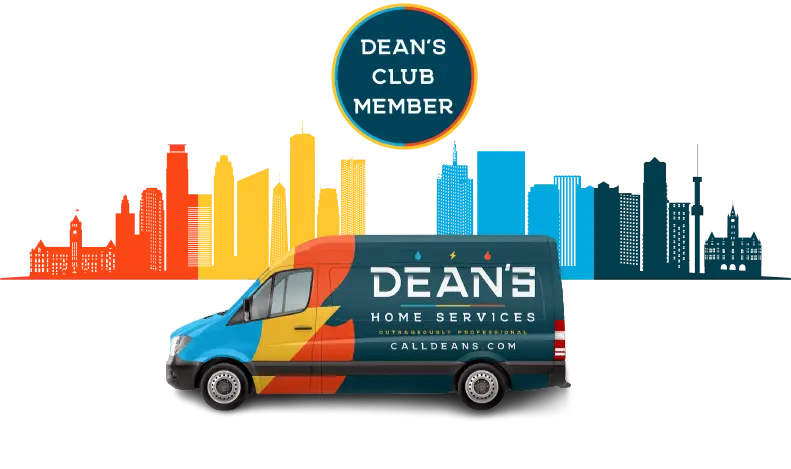 Dean's Club Membership
Sign Up Today
Free annual evaluations
10% discount on repairs and equipment
Priority scheduling
No regular travel charges
Discounted after-hours travel charges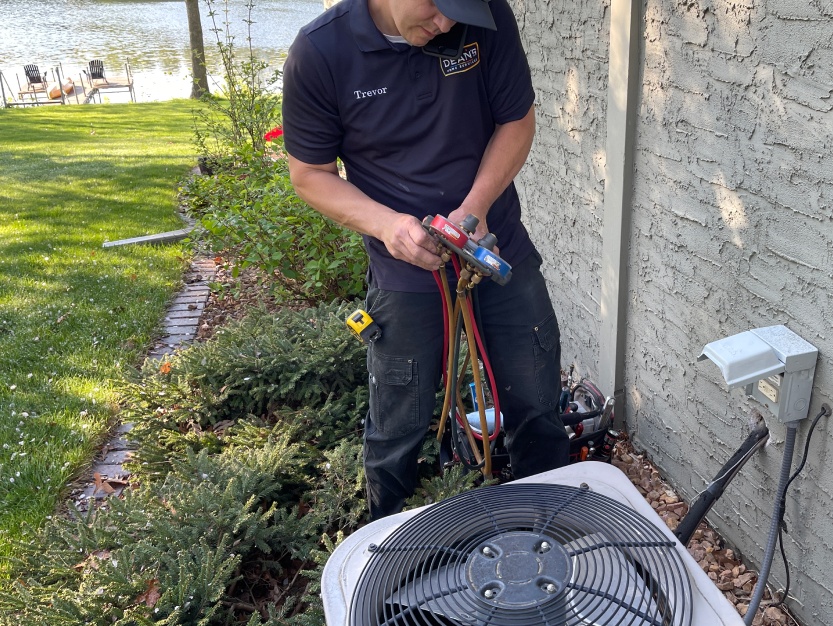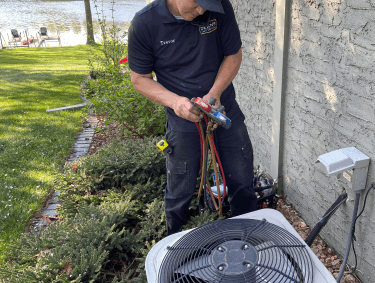 Customer Satisfaction is our

#1

Priority
What Dean's Customers are saying
I recently bought a new house and quite a few things needed upgrading / replacing. Deans has done fantastic work on all these things. Scheduling is fast and easy. They are able to come out quickly to assess it and give an estimate. And they can quickly schedule the service. All the technicians have been fantastic. Friendly, and quick and efficient. I am so glad I am a member and I will recommend Deans to anyone.
Mark B.
Matthew came for a general plumbing inspection. He was friendly and polite and even a little bit early for his appointment. That is a wonderful thing. He checked all the toilets and sinks, the water heater and water softener. All the while explaining what he was doing. He had some ideas on a few repairs but wasn't an alarmist about it. Things that just had to be done, sooner than later, but not immediately. The Dean's club membership is definitely worth it.
Susan M.
Eric B was awesome and informative. Today he came and gave us a rundown of our new homes air ventilation and Furnace/AC systems so we are all ready for winter and beyond. We had Dean's install a new furnace, ac and water heater at our previous home and they did such a wonderful job and so easy to work with we will only use them from now on. Thanks again for a wonderful experience.
Jayme K.
I had Dean's come out a couple times for different services. Once to install venting for a bath fan and once for service for my furnace. There were no surprises in pricing and service was quick. Sam was the tech both times and he did a great job for both jobs. For the furnace, he diagnosed the issue within minutes of starting the work and got it up and running quickly. They had all the parts in the truck already. As far as the appointment, I requested service online, had a call back within 15 min and the tech was in my driveway an hour later. I would highly recommend Dean's.
Dan P.
Of the several electricians I contacted, Dean's offered by far the quickest dispatch time, which is great because my thermostat broke and wouldn't start my A/C at all. Given that temperatures are supposed to reach 98 degrees tomorrow, time was of the essence. Thankfully, Dean's had someone out within an hour. I worked with Seth, who was professional, helpful and knowledgeable. He ran a 'C' wire to our new smart thermostat and got it installed in about an hour at a reasonable price. I will definitely recommend Dean's to anyone who needs an electrician.
Michael Y.
Proudly Serving
The Entire Twin Cities Area
Minneapolis & St. Paul - HVAC, Plumbing, Sewer/Drain & Electrical
View More
Proudly Serving
The Entire Twin Cities Area
Minneapolis & St. Paul - HVAC, Plumbing, Sewer/Drain & Electrical
View More